Martin Posen, an acoustic guitarist from Toronto, Canada, began his professional music career at the age of 21, when he placed as a Top-10 finalist at the National Flatpicking Championship in Winfield, Kansas.
For the next decade, he refined his acoustic/electric guitar and mandolin skills, performing across Canada with such bands as Mark Haines and the Zippers, and Black Creek.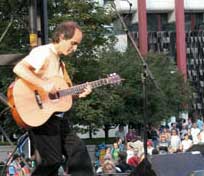 Since then, Martin has evolved into an original and creative composer. His passionate music fuses an eclectic mix of influences and styles: folk, rock, jazz, bluegrass, Celtic.
His compositions are played in various open tunings, creating a bright palette of musical colours, textures and great warmth. His playing style features complex fingerpicking, flatpicking, crosspicking and percussive techniques.
The music on Martin's two solo CDs, 'Listening Hands' and
'Triple Heater', consists of original instrumentals that range from fast-paced, flatpicked numbers to slower fingerstyle compositions.
Excerpts from the reviews of the CDs:
Triple Heater

and

Listening Hands...

"What you hold in your hands is a thing of rare beauty. Brace yourself: Martin's soul dance will leave you dizzy."

- Don Ross (Triple Heater)

"From hot fingerpicking, to flatpicking, his percussive techniques on the guitar are brilliant."

- Tandem Corriere Canadese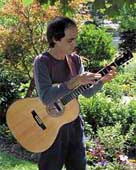 "Martin Posen's music is lusciously adorned, with rich steel-string acoustic guitar compositions.... This music is bare bones in a production of simplicity, yet each measure emotes passion."
- West Coast Performer Magazine
"One of the finest acoustic guitar albums I've heard in a while is Listening Hands.... (Sans Souci) has the sort of energy and lyrical invention that Michael Hedges or Leo Kottke would spring on an audience; then there are flashes when he calls to mind Alex de Grassi or Pierre Bensusan."
- NAV
"The thing that has kept this disc in my player the most... is his penchant for coming up with melodies, lines and phrases that are distinctly memorable. A super-cool CD that should appeal not only to fans of this particular style, or even guitar lovers only, but any open-minded listener."
- Chaos Realm
"Triple Heater is... a remarkable collection of fretboard gems."
- Canadian Musician
"Not only is he an excellent and talented player, Posen has a fine musical ear and sense of composition."
- Eye for the Future
"Posen's playing is uncluttered, and his tone is sweet and melodic with ringing, sustained notes."
- Dirty Linen
"(Martin) explores many of the lesser-known altered guitar tunings while utilizing a variety of percussive techniques and harmonics..."
- Minor 7th.com